The Villas
The matchless comfort home.
THE ADVANTAGES OF
Steel-AAC House
Steel-AAC Houses differentiate from other residential building systems clearly thanks to its unique features. This structural system emerged from the need for solution to reinforced concrete structures' problems such as allowance for thermal transfer, heat keeping capacity, moisture and heat transfer from the ground, long construction durations, and unrestrainable craftmanship errors. Different from prefabricated homes, on the other hand, Steel-AAC houses comprise of thick, industrial steel elements and thick walls and slabs made of AAC compared to flimsy structural elements of prefabricated houses made of thin, cold-formed bars and hollow walls and floors made of compressed wood shavings.
Privileges
SURROUNDED BY AAC
The living space is surrounded by 20 cm thick AAC in 6 directions.
1 METER HIGH IN THE AIR
Cold, damp, water and insect proof since the ground floor stands on steel columns.
ATTIC AS HEAT BUFFER
No heat transfer from the roof due to naturally ventilated space.
EARTHQUAKE-PROOF
By the nature of structural system, the houses are extra safe against earthquakes.
NON-COMBUSTIBLE MATERIALS
Since thermal insulation nor waterproofing is needed, the building is fully fireproof.
DURABLE
Made of non-decaying materials for you to enjoy a healthy life.
TOP-NOTCH INSULATION
Extreme heat and noise insulation anywhere in the house thanks to thick AAC.
STEEL STRUCTURE
Superior to reinforced concrete at earthquake, durability and aesthetics.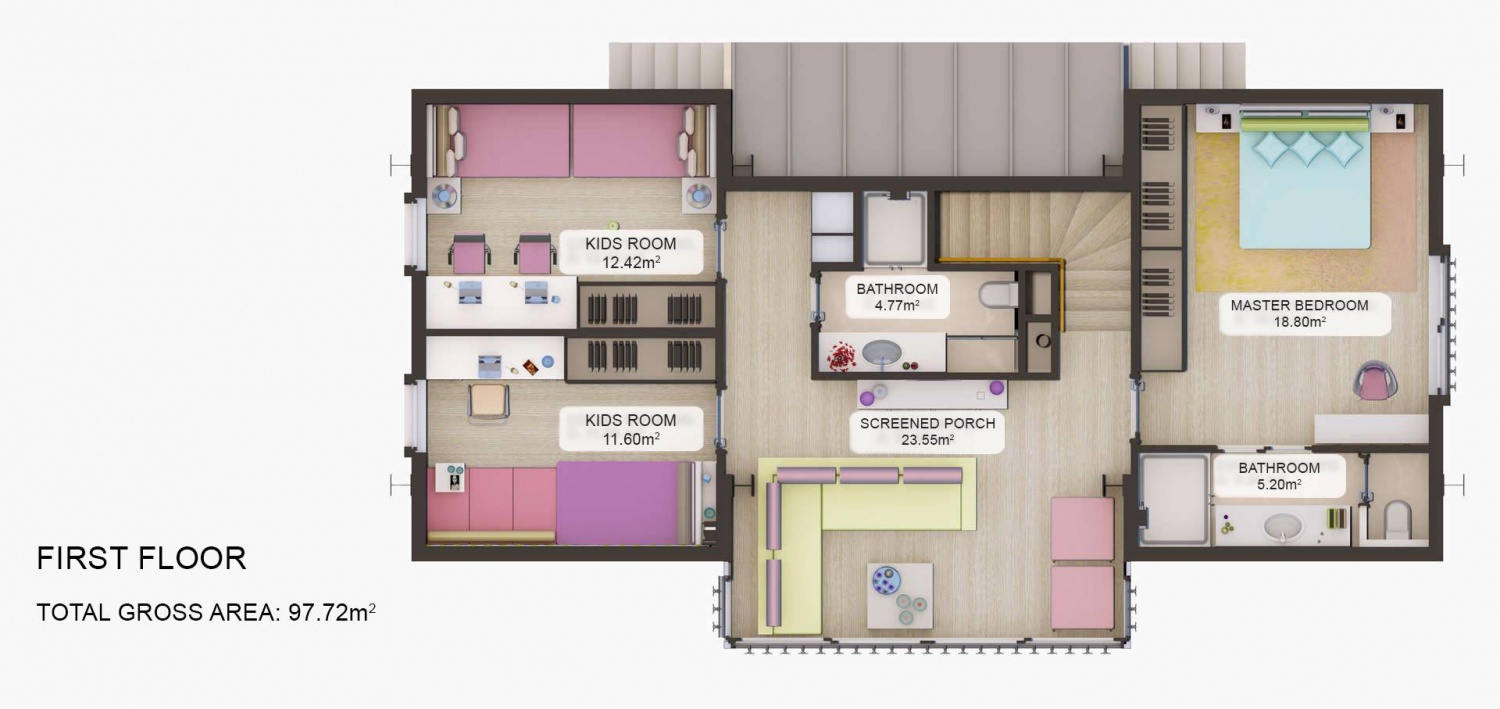 Floor plans of 4 + 1 duplex house
On ground floor, you enter your home from under a large shelter. In this floor, there is great room facing front yard, screened porch facing side yard, kitchen facing back yard, living room and a bathroom.
On first floor, there is master bedroom facing to front yard, screened porch facing side yard, two bedrooms facing to back yard and two bathrooms.
Total gross area is 200 m2. Room areas are calculated by net area.
YTONG
Autoclaved aerated concrete supplier
Vitra / Artema
Sanitary ware
BASF
Construction chemicals
Sur Çelik Kapı
Front doors
Marmara - Siegener
Hot-dip galvanizing
Bahçecik Villaları
let us call you
Please fill out the form and we will contact you to give further information about Metay Villas at Bahçecik